Keto Chinese Slow Cooked Beef and Broccoli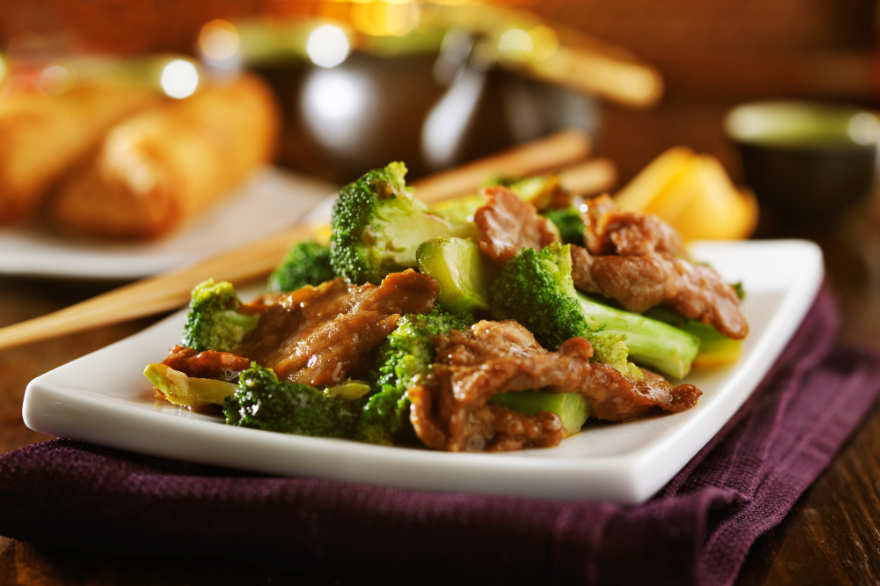 This recipe is inspired by Chinese cuisine. But, as Keto followers, we'll use Coconut Aminos instead of soy sauce or oyster sauce. This delicious sauce is made from coconut sap, contains no trans fats, and is low-sodium.
Take-out recipes typically dump a lot of sugar in the sauce, so if you can't live without sweetness, try a bit of stevia or Erythritol sweetener instead.
No need to stir in its own pot, as the recipe cooks and the sauce thickens right in the slow cooker. Cooking right in the slow cooker is a great option because brings out the flavor in foods.
Whatever leftovers there are you can savor later, as reheating is easy.
Keto Chinese Slow Cooked Beef and Broccoli
Servings: 4
Serving Size: 11 oz (1/4 recipe)
Ready in Time: 4 hours and 10 minutes

Nutrition Facts Per Serving
Calories: 426 / Fat 28g / Carbs: 4.5g / Fiber: 0.5g / Protein: 44g / Net carbs: 4g

Ingredients
1 Tbsp of lard softened
1 1/2 lb boneless steak cut into cubes
Salt and ground pepper to taste
1 cup of bone broth
1 cup of Coconut aminos
1 1/2 Tbsp of granulated stevia sweetener or Erythritol
1 Tbsp of white vinegar
3/4 tsp of red pepper flake
2 cloves of garlic finely sliced
2 heads of broccoli

Instructions
1. Grease a large Slow Cooker with softened lard.
2. Add the beef on the bottom and sprinkle with the salt and pepper.
3. In a bowl, combine the bone broth together with, Coconut aminos, sweetener, vinegar, and the red pepper flakes.
4. Pour the mixture over the beef and cover.
5. Cook on HIGH for 2 hours.
6. Open and add broccoli and finely sliced garlic.
7. Cover again and cook on LOW for another 2 hours or until broccoli is tender.
8. Serve hot.

(c)LoseWisely.com
https://www.losewisely.com/recipes/keto-slow-cooked-beef-broccoli.html