Keto Hungarian Chicken and Zucchini Stew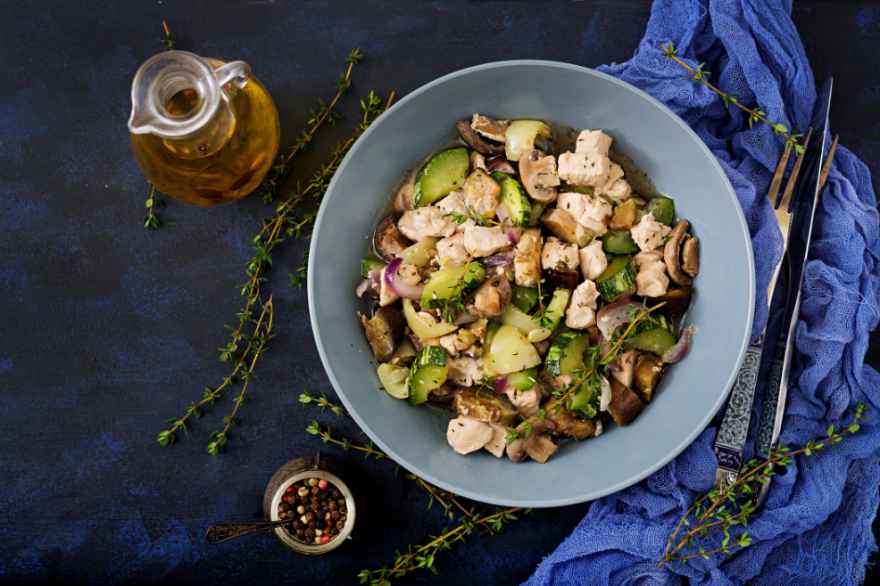 Hungarian Chicken and Zucchini Stew is the perfect combination of flavor, aromas, and textures to have everyone in the household asking for more.
Keto-friendly vegetables such as zucchini, bell pepper, spring onions, and fresh celery are the perfect match, so they really add some color and variety in texture.
This recipe calls for thighs and drumsticks, but you can use chicken breast instead as an excellent source of lean, low-fat protein.
Keep leftovers in an airtight container in the fridge for up to 3 days. Or, pour stew into a zip-top plastic freezer bag and keep frozen up to 3 months. Reheat in the oven or microwave on low heat before serving again.
Hungarian Chicken and Zucchini Stew (Keto)
Servings: 4
Serving Size: 11 oz (1/4 recipe)
Ready In Time: 55 minutes

Nutrition Facts Per Serving
Calories: 168 / Fat 6g / Carbs: 5.8g / Fiber: 2.1g / Protein: 24g / Net carbs: 3.7g

Ingredients
1 Tbsp of chicken fat softened
2 spring onions finely sliced
2 cloves of garlic
2 zucchini sliced
1 small carrot sliced
1 bell pepper sliced
1 cup of grated tomatoes
1 lb of dark chicken meat (thigh and the drumstick boneless)
1 cup of water
3/4 cup of bone broth
Salt and ground black pepper to taste
1/2 tsp of cumin
2 Tbsp of fresh parsley finely chopped

Instructions
1. Heat the chicken fat in a large frying skillet over medium-high heat.
2. Add the spring onions and garlic and sauté with the pinch of salt for about 3 to 4 minutes; stir.
3. Add zucchini, bell peppers, carrots, and grated tomatoes; stir and simmer for 3 minutes stirring occasionally.
4. Add the chicken meat and season with the salt and pepper; cook for about 4 to 5 minutes.
5. Pour water and the bone broth, cumin and parsley, cover and cook for 30 to 35 minutes over medium-low heat.
6. Taste and adjust the seasonings.
7. Serve hot.

(c)LoseWisely.com
https://www.losewisely.com/recipes/hungarian-stew-keto.html