Fluffy Keto Pancakes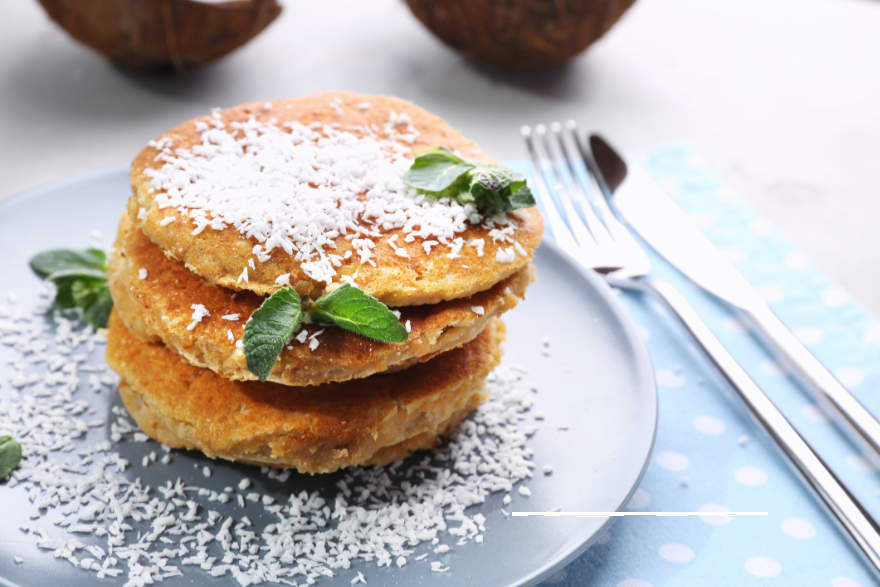 Pancakes and breakfast are practically synonymous.
But what if you're on the Keto diet?
Good news. If you're doing Keto, you don't have to miss out. These days everything has a Keto counterpart.
Almond flour, used in this recipe, adds to the cake-like feeling, and a pinch of lemon zest spruces up the combination with an added layer of savory flavor.
This recipe is so easy, and it can be done in a pinch to keep carbs under control while still enjoying some pancakes.
For toppings, here are some Keto-friendly ideas: unsweetened coconut flakes, almond or peanut butter, stevia, Keto Erythritol Simple Syrup, a handful of berries, sour cream or bacon, or a favorite combination of those things.
Fluffy Keto Pancakes
Servings: 6
Serving Size: 2.8 oz (~2 pancakes)
Ready in Time: 20 minutes

Nutrition Facts Per Serving
Calories: 58 / Fat 5g / Carbs: 0.5g / Fiber: 0g / Protein: 2g / Net carbs: 0.5g

Ingredients
1 1/4 cup of almond flour
1 Tbsp of Psyllium Husk
1 Tbsp of water
1 tsp of baking powder
Pinch of salt
Pinch of granulated stevia sweetener (or Erythritol)
1 lemon zest
2 large eggs
1/3 cup of almond milk
1 tsp of vanilla extract
Coconut oil for frying

Instructions
1. In a bowl, combine the almond flour, Psyllium Husk, water, baking powder, stevia sweetener and the pinch of salt.
2. In a separate bowl, whisk eggs together with almond milk, and vanilla extract.
3. Add in the almond flour mixture and stir until combined well.
4. Heat the coconut oil in a large frying skillet over medium heat.
5. Pour butter with the spoon to form pancakes; fry for 3 minutes or until bubbles form on top.
6. Flip the pancake and fry for about one to two minutes.
7. Transfer the pancake to the serving plate.
8. Fill with your favorite filling and serve.

(c)LoseWisely.com
https://www.losewisely.com/recipes/fluffy-keto-pancakes.html